Resistors are designed to meet requirements of both A.C. & D.C. applications. The basic types of resistors are stainless steel ( Grade – 304) and punched steel resistors. These are manufactured for current rating from 10 to 800 Amps. Continuous resistors of higher ratings are manufactured using 2 or more parallel paths. Resistors with short time rating up to 3000 Amps or evenmore for neutral earthling are possible which suitable for system voltage upto 11 KV and above.
E.O.T. cranes, rubber mills, steel mines, cement mills, power plants, conveyors, coke oven, blowers etc. for speed control and developing starting torques.
Dynamic breaking resistors for V.V.V.F.A.C Drives

Resistors are manufactured :
Air cooled type
Oil cooled type
Stainless steel grid resistors:
These resistors consists of stainless steel wires or strip in form of grids. The current rating generally ranges from 7 Amps to 400 Amps continuous with multiple or single paths.
Punched steel grids resistors:
he resistors consists of grids punched from correction resisting nickel chromium alloy sheet steels. The punched steel grids. The punched steel grids are completely immune to shock vibration. They function reliably under the worst operating conditions and are particularly suited for steel mill duty. These resistors are available in wide range of current rating from 8 Amps to 800 Amps continuous with single & multiple parallel paths.
Installation/ Dimensional detail of Stainless Steel Grid Type resistance boxes
Rated Value Ohms

Grid Type

Current Rating for various duty factors(Amps)

V

V

25%ED

40%ED

60%ED

100%ED

0.010

PS 10

390

325

280

234

0.022

PS 22

265

220

190

158

0.032

PS 32

220

182

153

131

0.046

PS 46

185

151

130

110

0.068

PS 68

152

126

110

90

0.100

PS 100

125

103

88

74

0.150

PS 150

101

84

72

61

0.220

PS 220

83

70

59

50

0.300

PS 300

82

59

50

43

0.460

PS 460

58

48

40

35

0.720

PS 720

47

39

33

28

1.000

PS 1000

40

33

28

24

1.500

PS 1500

32

27

23

19

2.500

PS 2500

25

21

18

15

4.500

PS 4500

15

13

11

8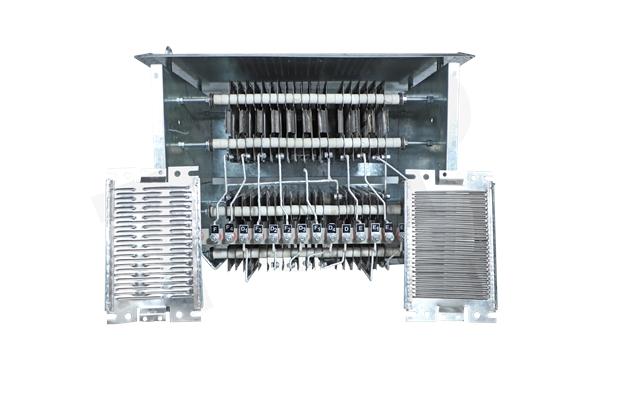 Dimensional detail of Stainless Steel Wire Type Resistance Box
Installation/ Dimensional detail of Stainless Steel Grid Type resistance boxes
| | | | | | | | | | | | | |
| --- | --- | --- | --- | --- | --- | --- | --- | --- | --- | --- | --- | --- |
| Unit Size | A | a | b | Unit Size | A | a | b | Unit Size | A | a | b | H |
| SS1 | 430 | 381 | 355 | SL1 | 650 | 600 | 574 | SB1 | 880 | 830 | 810 | 180 |
| SS2 | 430 | 381 | 355 | SL2 | 650 | 600 | 574 | SB2 | 880 | 830 | 810 | 360 |
| SS3 | 430 | 381 | 355 | SL3 | 650 | 600 | 574 | SB3 | 880 | 830 | 810 | 540 |
| SS4 | 430 | 381 | 355 | SL4 | 650 | 600 | 574 | SB4 | 880 | 830 | 810 | 720 |
| SS5 | 430 | 381 | 355 | SL5 | 650 | 600 | 574 | SB5 | 880 | 830 | 810 | 900 |
| SS6 | 430 | 381 | 355 | SL6 | 650 | 600 | 574 | SB6 | 880 | 830 | 810 | 1080 |
Dimensional detail of Stainless Steel Wire Type Resistance Box
Installation/ Dimensional Detail of Punch Stainless Steel Grid Type resistance boxes
Up to 15 Grids

Up to 18 Grids

Up to 21 Grids

Up to 30 Grids

V

Max H1

Unit Size

A

a

B

Unit Size

A

a

B

Unit Size

A

a

B

Unit Size

A

a

B

H

A1

590

530

505

B1

660

600

575

C1

740

680

655

D1

890

830

805

280

350

A2

590

530

505

B2

660

600

575

C2

740

680

655

D2

890

830

805

560

630

A3

590

530

505

B3

660

600

575

C3

740

680

655

D3

890

830

805

840

910

A4

590

530

505

B4

660

600

575

C4

740

680

655

D4

890

830

805

1120

1190

A5

590

530

505

B5

660

600

575

C5

740

680

655

D5

890

830

805

1400

1470

A6

590

530

505

B6

660

600

575

C6

740

680

655

D6

890

830

805

1680

1750